Social Media Management
for SJP Practices
Our SJP-accredited digital ninjas will provide your Practice with a consistent, professional online presence to help generate leads, build authority, and a whole lot more.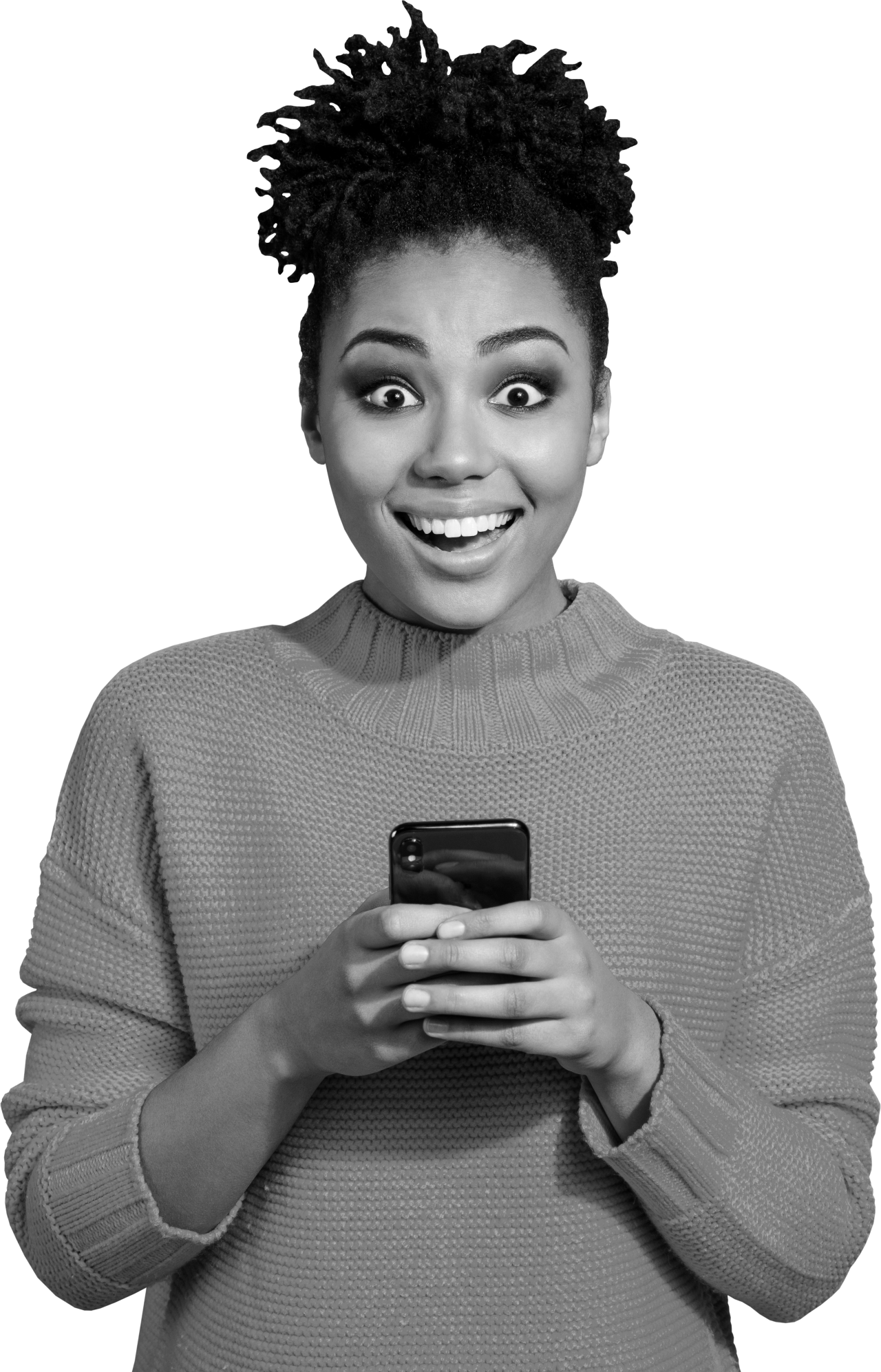 Ready to
grow your Practice

using social media?
Without the time, resources, or know-how, social media can be an excruciating, laborious task that, too often, falls on deaf ears.
Worry not because our team has the expertise to provide your Practice with customised, compelling & compliant content that positions you as an authority, increases your following, helps generate leads, and a whole lot more.
If you're ready to grow your Practice on social media, then look no further!


We ensure you stay compliant with SJP guidelines



Bespoke content tailored to your needs



All staff have SJP Social Media Accreditation



Benefit from a whole team strategising for your business
Our clients hired us to:
Generate brand awareness and establish a good online reputation
"Having a previous connection with Plus Group and finding their marketing on social media really effective, I reached out to them for help.
Since working with Plus Group, our LinkedIn and Facebook profiles have grown from zero, and our LinkedIn page now boasts a healthy 800 followers.
The variety of posts and branding has generated new clients, helped drive business from both new and existing clients and has also led to new introducers reaching out after seeing our posts on social media.
Working with Plus Group massively achieved our objectives, and in fact exceeded our expectations."
Davis Wealth Management
A trusted partner
Our staff have SJP Social Media Accreditation and will ensure you remain compliant within SJP guidelines.
A competitive advantage
By leveraging the power of social media, we'll help you build authority, generate leads, and outperform your competitors.
Save time, energy, & money
By entrusting our team, you'll have more time and energy to focus on doing what you do best.
Build authority
With our help, you'll reach a larger audience, increase engagement, build authority, and strengthen your online presence.
Maximum convenience
Our team does all the work for your utmost convenience, so you don't have to lift a finger.
Real results
With everything taken care of, it won't be long before you see the results roll in.
Secure Lead Generation Services
for your area today.
To achieve optimum performance, we only work with 1 Practice, per campaign, per area.  This exclusivity ensures our campaigns do not compete against each other, preserving budget and reducing ad spend.
We work on a first come, first serve basis, therefore we encourage Practices to act fast if they wish to secure a certain area.
Choose a package that suits you.
Ideal for Practices with a smaller budget, looking for a presence on social media.
Perfect for Practices that are looking to share a variety of branded content online.
Completely tailored package for Practices looking to grow and generate leads online.
See what it includes
| Packages | Presence | Variety | Complete |
| --- | --- | --- | --- |
| Post Creation & Delivery | | | |
| All Posts Branded | | | |
| WhatsApp Channel | | Notifications | Team Chat |
| Dedicated Client Manager | | | |
| Enhanced Social Media Strategy | | | |
| Monthly Video Call | | | |
| Audience Growth Content | | | |
| Third Party Affiliation Content | | | |
| Asset Creation & Bi-Annual Update | | | |
| Google My Business Setup | | | |
| Weekly Posts | 3 Per Week | 5 Per Week | Strategy Defined |
| Platforms | | | |
| LinkedIn | | | |
| Facebook | | | |
| Instagram | | | |
| YouTube | | | |
| Google My Business | | | |
| Post Types (see post types above) | | | |
| SJP Insights | | | |
| SJP Approved Content | | | |
| Advice & Services Content | | | |
| Client Testimonials | | | |
| Seasonal Content | | | |
| Educational Content | | | |
| Video Content | | Unbanded | Branded |
| Meet the Team Content | | | |
| Practice Specific Content | | | |
| Adviser Specific Content | | | |
| Competitions | | | |
| Interactive Content | | | |
| Monthly Fee (excluding VAT) | £297 | £497 | £997 |
Don't want a managed service?
Why not check out SISOMA
Create and share engaging branded content your audience will love in as little as 15 minutes a week.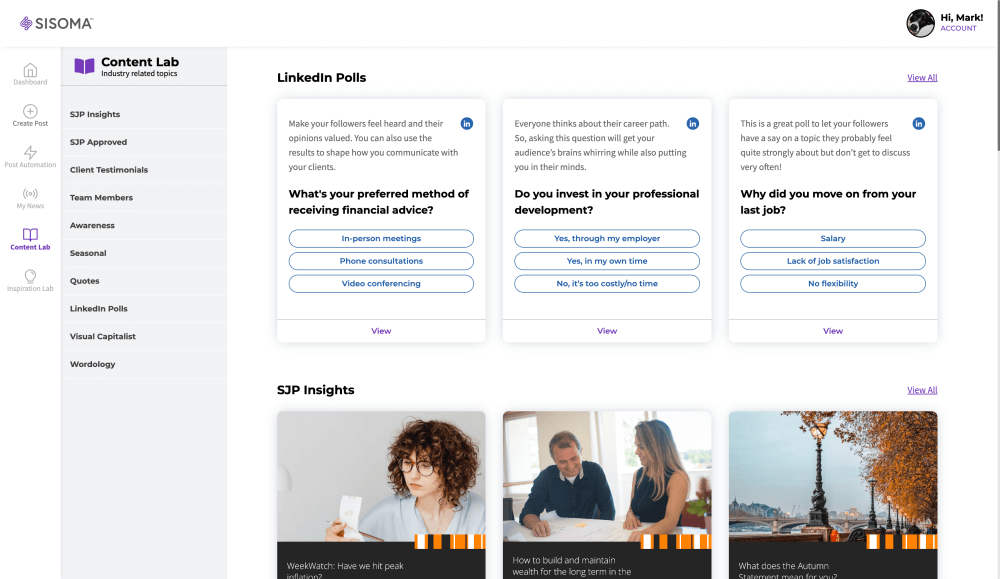 Social Media Managers, Paraplanners, Chasers, and more.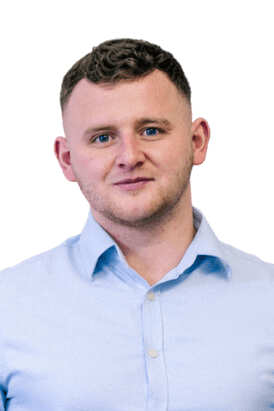 Sean Keane
Director of Plus Creative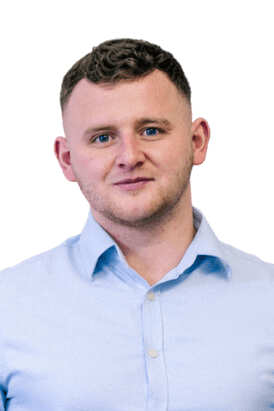 Sean Keane
Director of Plus Creative
ABOUT
A former recruitment professional I took on this role for work/life balance. Genuinely very much enjoy the role I am in now and my favorite part is liaising with the partners and completing difficult cases. I live by the Med with my dog Mia and my fiance Carlos and yes, I do take full advantage of the vineyards and restaurants round here!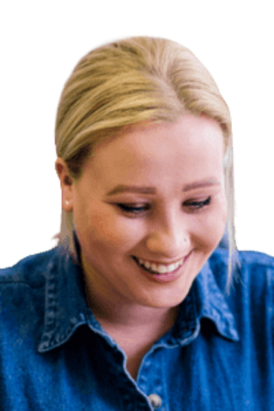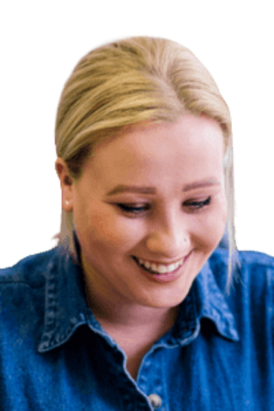 Zoe Smith
Social Media Manager
Joined since 2020
ABOUT
I joined Plus Creative in June 2020 as Social Media Manager. My main role within the team is to design and schedule exciting content to share on Partner's social media pages. A typical day includes researching relevant content that can be used to share across all platforms.
I live in Flintshire, North Wales where me and my partner have recently purchased a holiday home near the beach in sunny Prestatyn. I have spent a lot of time travelling South East Asia and Europe. My main hobbies are socialising with friends and family and going for long walks to explore new areas. I also have a passion for horse riding and am keen to start taking horse riding lessons again to increase my confidence and skills.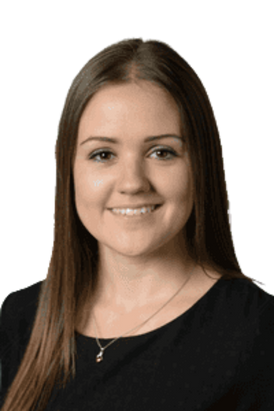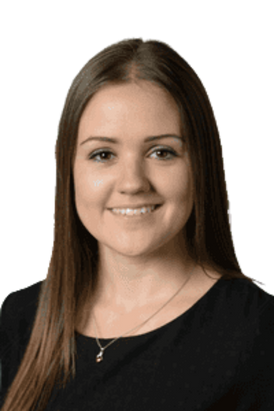 Lauren Chapman
Paraplanner
ABOUT
I am Diploma qualified and SJP accredited, and have been with SJP since 2017. I live in Shropshire with my husband and two little boys.
LIKES
I love to bake, love eating out and having family days out with my boys.
DISLIKES
Rainy days, bad manners, not having enough sleep (sadly impossible when you have kids!)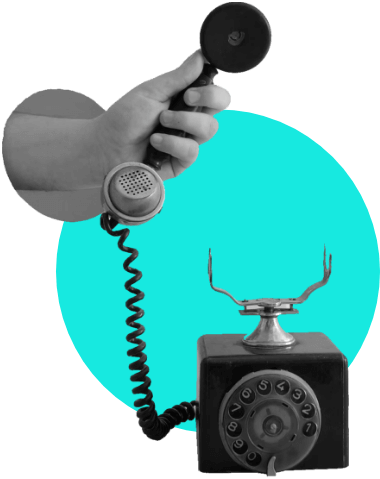 Ready to
grow your Client base?
Our team of experts are on standby to roll out the red carpet. All you have to do is contact us now.
Frequently
asked questions
What are lead generation ads?
Lead generation ads, are paid ads, that direct prospecive customers to lead capture forms, enouraging them to leave their contact details to receive more information about your services.  Usually, the users details will be prepopulated with the information from their social media account.
Do I need to create / supply any ads?
No, we take care of everything.  Once we have your logo, colours and fonts, we create all assets in house, ensuring they look on brand and professional.
Can I advertise in more than one area?
Sure, as long as the area has not been secured by another Partner / Practice.  We also provide discounts for multiple campaigns / areas.
Will you run the same ads for other Partners / Practices in my area?
No, we won't. Once you have secured a certain area / campaign, you will have exclusivity for 12 months, when a new contract will be arranged.
Can I advertise for longer than 12 months?
Yes, you can.  After the initial 12 months, you will have an opportunity to secure that area / campaign again.  If there is interest from another Partner / Practice, we take ad spend into consideration when deciding which Partner / Practice is best suited.
Do you respond to comments on my posts?
We don't respond to comments. However, when we receive an alert that there has been a comment, we will inform your point of contact.
Will you gain approval for posts from SJP on my behalf?
Yes, we liaise with Marketing and Financial Promotions to gain approval on all ads / assets.
How do I receive the leads?
The leads generated from these ads will arrive in your inbox instant, directly from the Platform (LinkedIn for example). You can also access all your leads from an online dashboard, if you'd prefer to download them in bulk.
Will you contact leads on our behalf?
No, this is not a service we currently offer.  Whilst we not able to contact leads on your behalf, we are able to advise on how to implement a follow up strategy, ensuring the process is as smooth as possible.
What is the minimum term for this service?
All lead generation paid ad contracts are setup on a 12 month basis.  After the initial 12 months, you will have the opportunity to setup another 12 month contract, securing exclusivity for the area / campaign of your choice.
Can you also help with my branding?
Yes, we offer Brand Analysis as part of our Marketing Support Service. We work to understand your target client, what makes you different, who you are as a business, and your unique story. We then use this information and our expertise to develop a set of logos, colour charts, typography, imagery, and brand guidelines.
Why should I invest in your Lead Generation Paid Ad Services?
Your digital presence can open doors to new customers and sales.  We use information about your ideal customer and use that to target thousands of prospects on various platforms.
How can I get the most from this service?
For maximum results, we highly suggest running this service alongside our Social Media Management service.  This improved the likelyhood of prospective customers leaving their details, as you'll have a consistent, professional organic presence on social media already.